E-BOOK
Scoringsmechanismen voor meerkeuzevragen
Welk mechanisme past het best bij jouw toets of examen?
Het antwoord op al jouw vragen … over vragen en antwoorden
Wat zal je leren in dit E-Book?
Wat zijn de populairste scoringmechanismen voor examenvragen?
Wat zijn de voor- en nadelen van elk systeem?
Hoe kies je het meest geschikte mechanisme voor jouw examen?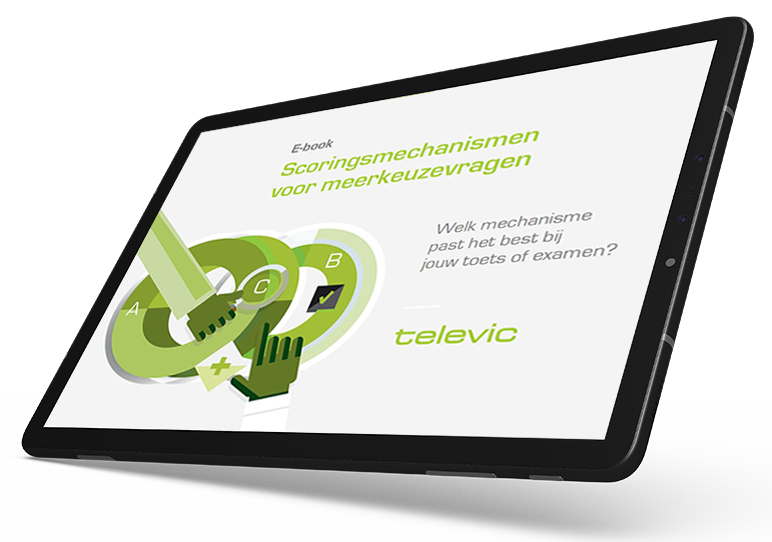 Download het E-Book helemaal gratis!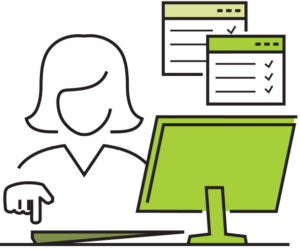 Welk mechanisme past het best bij jouw toets of examen?
Evaluaties zijn een cruciaal onderdeel van elke opleiding. Ze schetsen een beeld van het kennispeil van de deelnemers en bieden jou, als opleidingsinstantie, de kans om dat niveau weer te geven in meetbare, vergelijkbare resultaten.
Een absolute basisvoorwaarde voor een correcte toets is dat je de antwoorden zo objectief mogelijk beoordeelt. Om dat te garanderen zijn in de loop der jaren heel wat mechanismen ontwikkeld.
Elk systeem is wetenschappelijk onderbouwd en dus een valabele optie voor de berekening van jouw toets- of examenscores. Ze verschillen van elkaar op
3 belangrijke punten:
de manier waarop ze met gokken omgaan
de manier waarop ze gedeeltelijke kennis beoordelen
het aantal antwoordmogelijkheden (één of meerdere)
In dit e-book nemen we voor jou de 4 vaakst gebruikte scoringsmechanismen voor meerkeuzevragen onder de loep:
Welk basisidee zit erachter?
Wat zijn de voor- en nadelen?
Welke mechanismen zijn het populairst?
Hoe bepaal je welk systeem het meest geschikt is voor jouw toets of examen?
Met deze informatie in je rugzak maak je voortaan onderbouwde scoringskeuzes en ben je zeker dat de resultaten correct en objectief zijn.