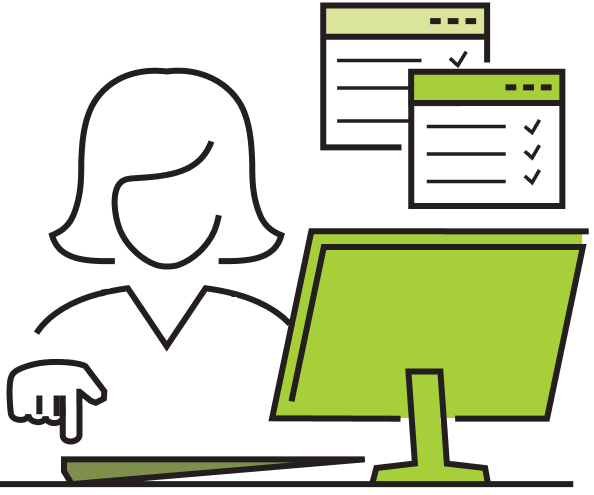 assessmentQ als toetsplatform
Een kleine groep of veel deelnemers tegelijkertijd? Digitale examens moeten efficiënt, betrouwbaar en veilig zijn.
Om specifieke kennis en vaardigheden te meten heb je gevarieerde, rijke vragen en opdrachten nodig.
Ook examineren vanop afstand kan perfect: door digitaal toezicht  kan iedereen veilig examen afleggen van thuis.
Mensen met een beperking kan je extra ondersteunen.
1. Bereid vragen voor
Bereid je vragen voor in de 'itembank' en verrijk ze met media en metadata.
Gebruik specifieke vraagtypes voor economie, wiskunde, taalkunde, tolken of kritisch denken.
Combineer gesloten en open vragen en beoordeel zo het werkelijke kennisniveau.
Gebruik ingebouwde, slimme score-opties of bouw zelf je eigen correctiesleutel.
Creëer automatisch meerdere gelijkwaardige examens.
2. Evalueer en analyseer
Geef gebruikers eenvoudige toegang tot het platform. assessmentQ werkt rechtstreeks in de browser.
Integreer voorleessoftware, een rekenmachine, extra contrast of andere ondersteunende tools voor kandidaten met een beperking.
Wil je extra veiligheid? Gebruik dan de ingebouwde ondersteuning voor 'Safe Exam Browser' of digitaal toezicht ('remote proctoring').
Volg live vanop afstand en grijp in waar nodig.
Een haperende internetverbinding? Geen probleem. assessmentQ vangt tijdelijke onderbrekingen op zonder dat resultaten verloren gaan.
3. Verwerk de resultaten
Gebruik slimme correctiemechanismen om het verbeterwerk voor jou te doen.
Verbeter vragen manueel wanneer het niet automatisch kan: assessmentQ helpt je om objectief en consequent te zijn.
Sluit extra vragen achteraf uit op basis van psychometrische data.
Laat kandidaten achteraf opnieuw hun afgelegde examen bekijken.
Stuur de resultaten door naar je eigen platform.
Leer uit de inzichten die de rapportering je biedt.
Verstuur automatisch certificaten voor accreditatie of certificatie.
Wat maakt assessmentQ zo bijzonder?
Interesse?
Boek nu een gratis demo, zonder enige verplichting