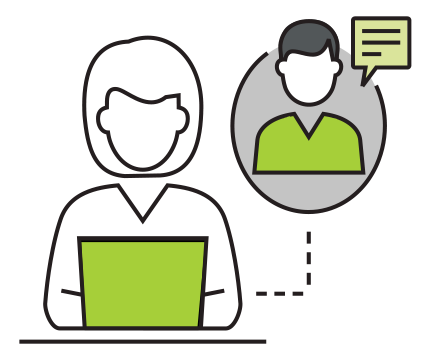 assessmentQ als oefenplatform
Oefenen en testen zijn erg doeltreffende manieren om kennis en vaardigheden te verwerven en te onderhouden. Dankzij het assessmentQ-platform kan dat nu makkelijker dan ooit.
Gebruikers leren uit hun fouten dankzij directe feedback.
Meten is weten. assessmentQ helpt om geïnformeerde beslissingen te nemen.
Interactief omgaan met oefenstof (klikken, slepen, antwoorden, feedback bekijken) geeft een aantoonbaar beter leerrendement.
Gebruikers kunnen onbeperkt oefenen in aanloop naar een toets of certificatiemoment.
1. Bereid vragen voor
Creëer snel en makkelijk oefenmateriaal.
Hergebruik eventueel bestaand materiaal dat je aanpast en interactief maakt.
Maak 'rijke' oefenmodules met tekst, beeld, audio, video,…
Voeg makkelijk feedback toe en zorg zo voor een sterke verankering van de kennis.
Bouw reeksen volgens jouw specifieke noden: van korte micro-learnings tot uitgebreide modules.
Wissel oefen- en toetsmomenten af. Variatie werkt altijd.
Pas de look & feel van je oefenmodules aan aan je huisstijl.
2. Laat gebruikers oefenen
Geef cursisten toegang met hun persoonlijke account of rechtstreeks vanuit je leer- of HR-systeem (via 'Single Sign On', ADFS of LTI).
Laat gebruikers oefenen op elk toestel, op elk moment, zonder installatie.
Bewaar resultaten en verwerk ze tot waardevolle inzichten.
3. Verwerk de resultaten
Krijg écht inzicht in de kennis en vaardigheden van de deelnemers aan de hand van flexibele rapporten.
Stuur de resultaten door naar je eigen platform zodat je een totaalbeeld krijgt.
Bewaak de kwaliteit van je oefenmateriaal: foute of verdachte items worden makkelijk herkend.
Verstuur automatisch certificaten voor accreditatie of certificatie.
Wat maakt assessmentQ zo bijzonder?
Interesse?
Boek nu een gratis demo, zonder enige verplichting