Online exams for educational publishers
Make digital practice & exams interactive and innovative
As an educational publisher, interactive digital content is an increasingly important part of your range. Traditional textbooks are often supplemented with online provision for digital practice and testing for students and learners. Thanks to the interactive assessmentQ assessment platform, it's now easier and more efficient than ever.
Why assessmentQ software?
Use the platform standalone or integrated into your own workflow or learning platform.
Customise the user interface to suit your own needs or house style.
Take advantage of the latest innovations in digital exercises, including automatic feedback, advanced scoring options, etc.
Broad selection of specialist exercise types including summary, journal, result calculation, etc.
Smart reports give you insight into the position and progress of your users and allow you to optimise your training materials further.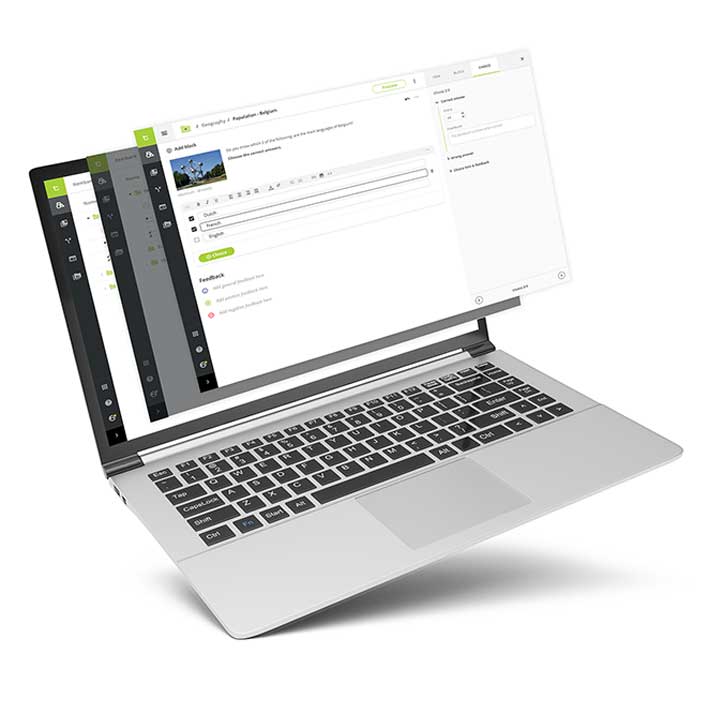 How does it work?
All in one platform: create, publish, test, report and certify questions and assignments. It can be that easy.
Straight to your browser: there's nothing to install. Use the platform anywhere, even on your tablet or smartphone.
Intuitive: after a short period of training by our experts, you can start working straight away.
Accessible: we stay close to our customers and pride ourselves on personal support.
What exactly does assessmentQ include?
assessmentQ platform
Make practice and testing active and interactive
Choose the exercise content yourself or customise existing modules
Get real insights in the knowledge and skills of users
Clear reporting
assessmentQ guarantees you quick and easy insight into the results. The platform has many options for advanced reporting. The assessmentQ reports not only give you scores, but also clear insights into the effectiveness of the assignments. And if you like, you can also easily send the data to other platforms.
Edumail: easy microlearning
Easy: a unique training formula via e-mail
Quick: let your users gain more knowledge in less time
Smart: the perfect addition to blended learning
Fun: Keep users motivated
Academy
Learn to get the most out of assessmentQ in our own Academy
A wide range of training courses for both new and experienced users
Also for specialist needs: if necessary, our experts will provide a tailor-made training course
Start your 30-day free trial now!
Ready to discover the benefits of digital assessment at your own pace and without any obligation? Create your free account now.