Combined technology by Televic and RefAssist evaluates referees more efficiently
It is not easy for sports federations to track their referees' knowledge level efficiently on an ongoing basis. This has led Belgian tech pioneers Televic and RefAssist deciding to develop a combined solution that offers a smart response to this challenge.
A rock-solid combo
In recent years, RefAssist has built up a rock-solid reputation with its platform for managing, scheduling, communicating with and following up on referees. Televic, in turn, has developed a smart digital platform called 'assessmentQ' that can evaluate and increase knowledge both thoroughly and efficiently.
An integrated solution
Combining these two technologies has enabled the two companies to provide an innovative solution for various sports federations. In the case of RefAssist, they plan to use the insights collected by assessmentQ to boost the efficiency of their referee scheduling and follow-ups.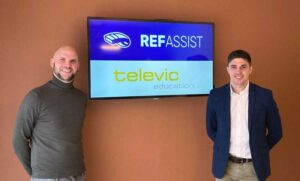 Gregory Delhougne, Business Development Manager at RefAssist, explains: 'We see a clear need for a high-performance e-learning and e-assessment tool in our industry. Developing such a platform ourselves would be difficult and labour-intensive. After a thorough analysis and evaluation of the options available to us, we settled on assessmentQ. Televic's platform offers everything our customers need in terms of online training. On top of that, the ability to exchange and collect data is crucial to the following up of referees on a daily basis.'
'An innovative Belgian technology company that is a leader in its niche market, we have found a partner in RefAssist that shares the same ambitions as Televic. That made it logical for us to team up and develop a powerful digital solution that responds to a genuine need for our users', according to Bart Sagaert, Sales Manager at Televic Education.
Pilot project underway
By pooling their strengths and experience, both RefAssist and Televic aim to further differentiate themselves within their respective niche markets. In the meantime, an initial pilot project is current underway within international football, with results expected in due course.
About RefAssist
"Improving referees around the world." RefAssist's vision is as simple as it is inspiring. Built on insights gained through a universal cloud-based platform, RefAssist provides a state-of-the-art software solution to the global sports industry. RefAssist not only integrates the management, communication and follow-up of referees and officials, but also developed the world's best automated referee scheduling tool based on an innovative algorithm and multiple parameters.
www.refassist.com
About Televic
Televic Education is a world leader in developing smart solutions for training, assessment, certification, accreditation and collaboration in many different industries. Based on its years of know-how in educational technology, Televic has created assessmentQ: the most versatile platform for online practice and testing.
www.assessmentq.com

Let's talk!
Schedule a short call with one of our experts, free of obligation. They will be happy to listen to your needs.

Discover assessmentQ
assessmentQ is an advanced web-based platform that enables organizations to create, manage, deliver and track all sorts of online assessments. The assessmentQ platform is versatile and powerful, and can be deployed in environments that need to be controlled, such as examinations, or it can be used to deliver preexisting assessment content to candidates in remote locations.