What's new in assessmentQ 2.8?
Mid-October we released version 2.8 of assessmentQ. This latest version once again introduces several innovations that will further enhance your digital exams and assessments.
Main novelties:
For the full details about all assessmentQ 2.8 novelties, go to Release notes assessmentQ 2.8 – Televic Education (televic-education.com).

1. Scenarios
A scenario is basically a blueprint for an exercise or exam, allowing the author to create multiple equivalent variants of an assignment, or just one assignment that complies with certain predefined rules.
A scenario consists of one or more parts, and each part contains so-called item blocks. These item blocks then contain items and cases that match with the criteria defined by the author.
For example:
the items should be selected from the folder "Biology";
they should have "1st grade" as target audience;
and should have a maximum score lower than 1.
As a user, you can combine criteria with AND and OR operators, select items by item type, select items based on their creation date, etc.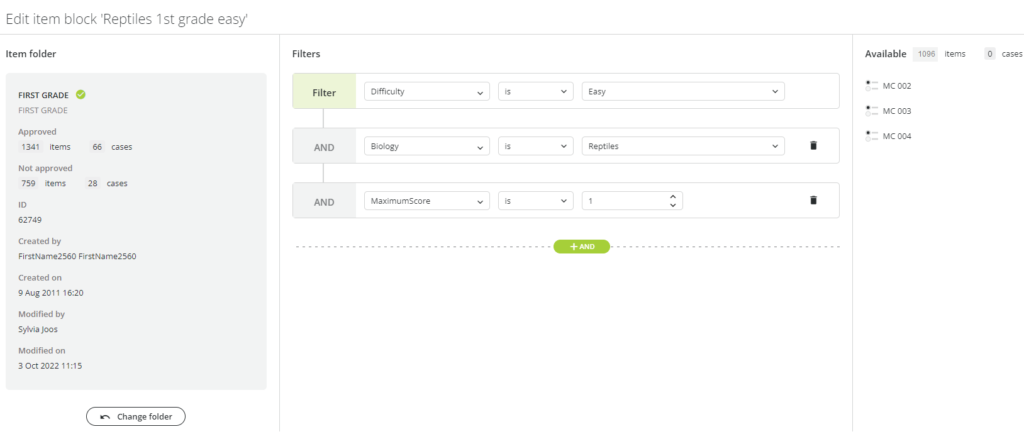 2. Math entry
assessmentQ 2.8 now supports more advanced math exercises and exams. For example: you can easily enter square roots or fractions.
As an author you can now also customize the editor for participants, defining for example which buttons or symbols are available to them, depending on their grade or knowledge level.
The math entry item is integrated with the grading module, allowing graders to override the automatic scoring if needed, as multiple equivalent answers may be correct for 1 math exercise.
Special attention went to the usability of the editor:
it uses a blinking cursor instead of squares;
the editor can also be used on touch devices;
you can add gaps and enter the correct solution immediately in these gaps.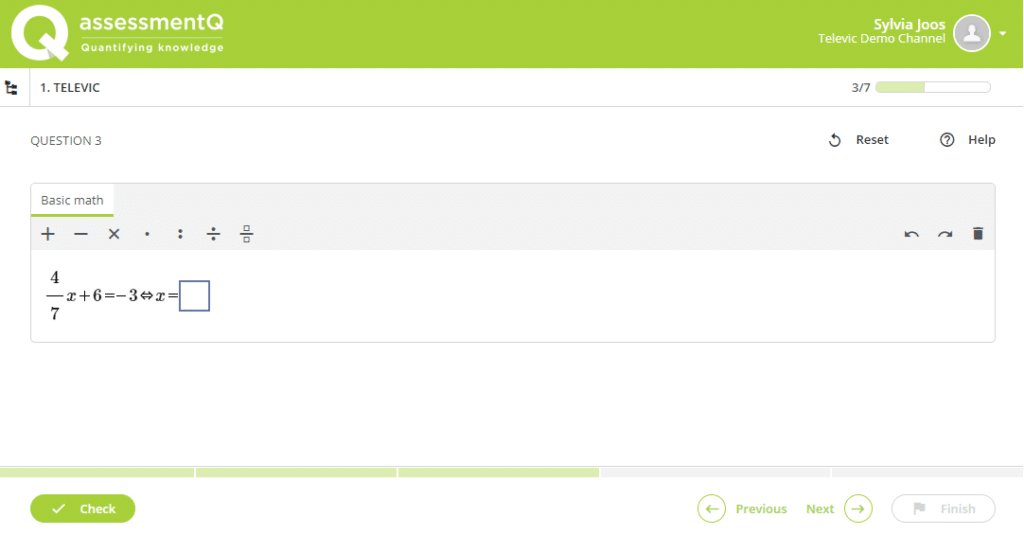 3. New metadata types
Following on the updates that became available in assessmentQ 2.7, assessmentQ 2.8 now adds even more possibilities for metadata. You can now:
select multiple values for 1 metadata key;
switch from one type of dropdown to another;
paste dozens of values in 1 multi-select metadata field.
Also, the user experience is more uniform as most metadata types make use of a dropdown. This makes it more intuitive to search items by metadata and use metadata in scenarios.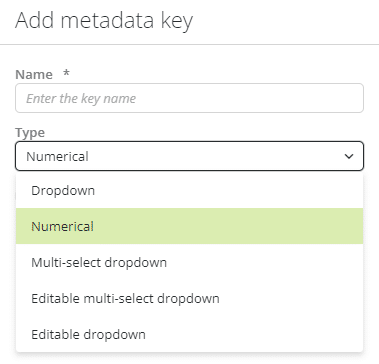 4. Calculator
In assessmentQ 2.8, you can now define whether you allow the use of a calculator on individual item level. Previously, this was only possible on assignment level.



5. Editable item statuses
assessmentQ 2.8 now lets you customize item statuses, to better match your personal workflow. By default, each item has 4 statuses:
draft
to be reviewed
reviewed
approved
"Draft" (the default for new items) and "approved" (required to add the item to your assignment) cannot be changed. You can however change or rename the statuses "to be reviewed" and "reviewed", and even add new statuses if needed.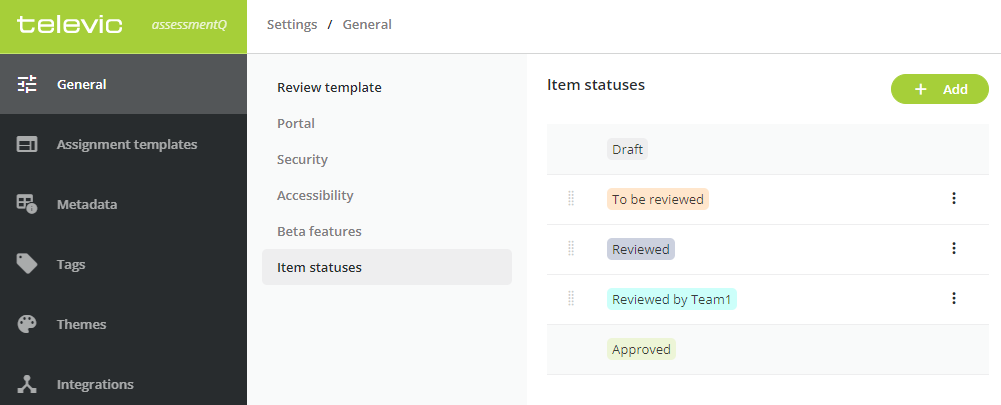 6. Scientific calculator
The functionality of the scientific calculator has been further expanded. You can now switch to the so-called "mathematical mode" and calculate with fractions. Several buttons have also been repositioned, added, or removed, so the calculator meets all the needs for students of the first years of secondary education.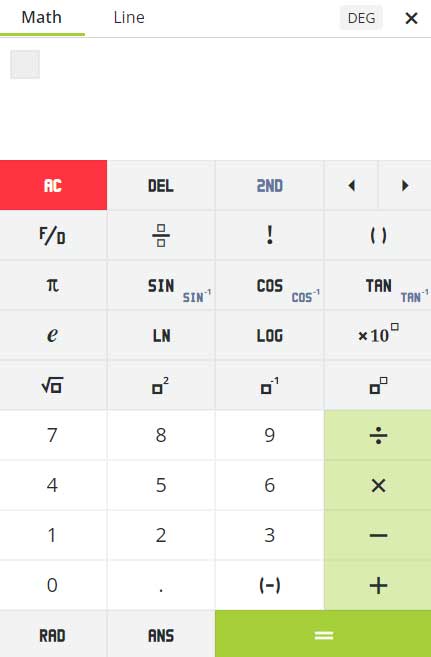 7. Case information
A new setting lets you decide whether case information must be repeated above or at the left of the actual questions. This way, assessmentQ better supports use cases in which you show a longer text on the left of the screen, and several questions about that text on the right of the screen.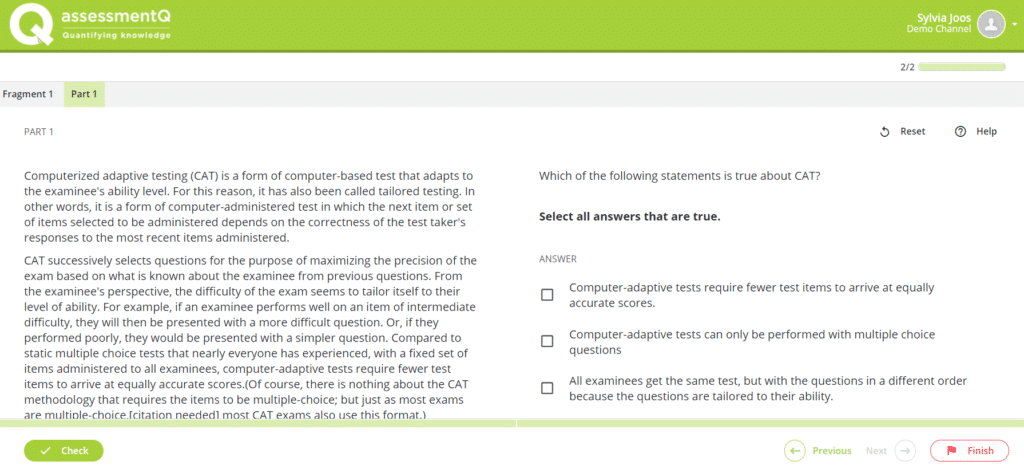 8. Improved finish dialog
Finally, assessmentQ 2.8 introduces improved configuration options for the finish dialog (depending on the navigation mode). This significantly improves the user experience for the author (in the back office), and for the candidate (in the player).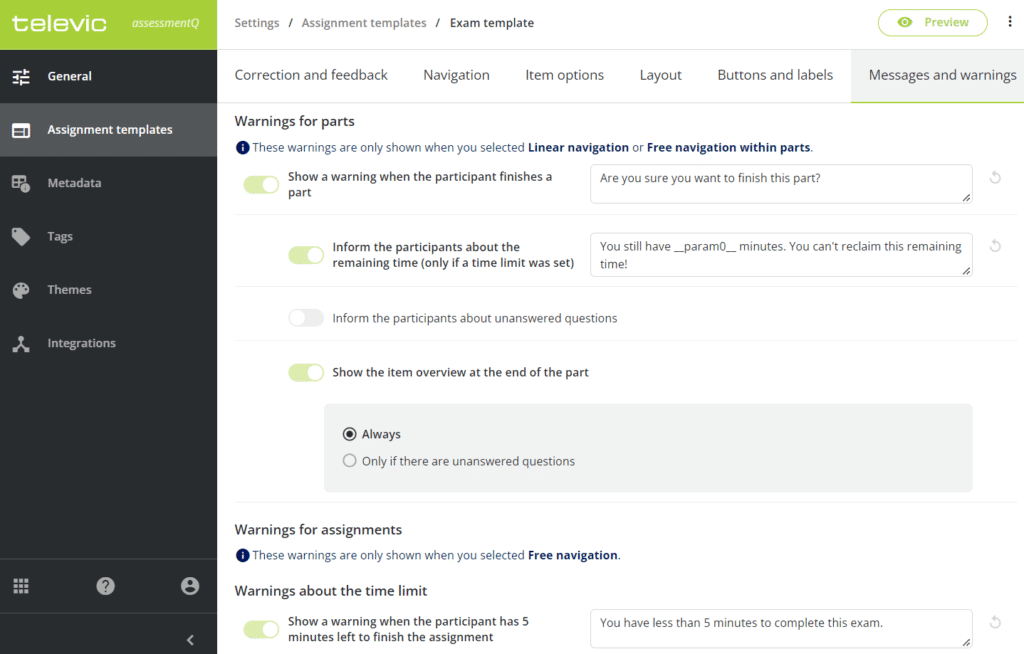 Watch the video and discover what's new in assessmentQ 2.8
Try assessmentQ now!
assessmentQ is an advanced web-based platform that enables organizations to create, manage, deliver and track all sorts of online assessments. The assessmentQ platform is versatile and powerful, and can be deployed in environments that need to be controlled, such as examinations, or it can be used to deliver preexisting assessment content to candidates in remote locations.

Let's talk!
Schedule a short call with one of our experts, free of obligation. They will be happy to listen to your needs.