Digital training & evaluation for the care sector
Make knowledge measurement & accreditation more efficient than ever
As a healthcare organisation, you also want a clear understanding of the level of knowledge of your employees as part of your accreditation process. Thanks to the interactive assessmentQ learning platform, this can now be done more efficiently than ever.
Why assessmentQ?
Gain insight into the knowledge level of your employees; motivate and reward them with certificates.
Let your staff practise in order to consolidate their knowledge and skills.
Build your own made to measure modules: nothing is as educational as situations you recognise as your own.
Measure the quality of your training and improve your offer permanentaly on the basis of objective user scores.
Use the platform standalone or integrated into your own workflow, learning platform, HR package or medical equipment.
Enjoy ready-to-use practice content for the care sector: convenient and time-saving.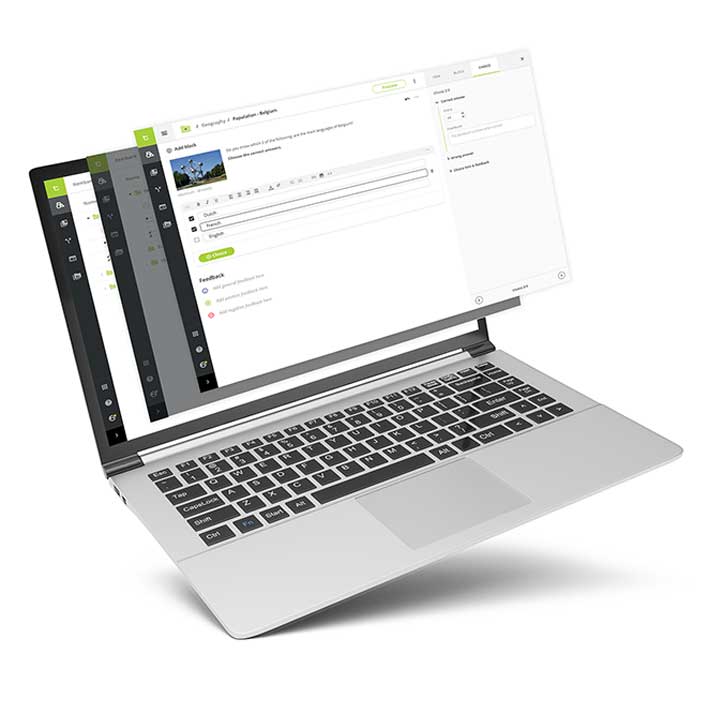 How does it work?
All in one platform: create, publish, test, report and certify questions and assignments. It can be that easy.
Straight to your browser: there's nothing to install. Use the platform anywhere, even on your tablet or smartphone.
Intuitive: after a short period of training by our experts, you can start working straight away.
Accessible: we stay close to our customers and pride ourselves on personal support.
What exactly does assessmentQ include?
assessmentQ platform
Make knowledge acquisition measurable
Let your staff practice interactively to consolidate their knowledge and skills
Choose the learning content yourself or customise existing modules
Gain real insight into the knowledge and skills of your employees
EduQare content modules: specifically for the care sector
An extensive library of more than 80 ready-to-use practice and certification modules
Relevant topics for the care sector, including fire safety, evacuation, radiation protection, supplementary feeding, medication management, blood transfusion, aggression, vaccination, and more.
Richly illustrated and solidly based
Made by and for the care sector
You can add to, alter or make selections from the modules
Annually updated with new modules
EduQare community
Join the network for learning in the care sector
Get access to easy to use EduQare content modules
Collaborate on new content and specialist topics
Exchange experience and best practices with colleagues
Actively share with other care institutions
Edumail: simple microlearning
Easy: a unique practice module via e-mail
Quick: let your employees gain more knowledge in less time
Smart: the perfect complement to blended learning
Fun:keep participants motivated
Patient Education Point (PEP)
Make patient education simple and efficient
It increases patient engagement
Really user-friendly for the patient
Provide the right information about a procedure or admission at the right time
Collect feedback and get clear reports
Keep a report on patient participation in the EPD
Easy to integrate
Integrate with your existing HR or training system via LTI, API, etc.
Use certified connections (SD Worx, Cornerstone, E-PowerHr, AFAS software etc.)
Start your 30-day free trial now!
Ready to discover the benefits of digital assessment at your own pace and without any obligation? Create your free account now.
What our customers say
ZorgConnect | Dorien De Meyer
Sint-Jozef Hospital | Kimberly Buyse & Steve Lervant
UPC KU Leuven | Tuur Bogaerts
OLV Gasthuis | Dave Vanderbeke