How secure and reliable are digital exams?
Increasing numbers of test centres, educational establishments and companies are going digital when organising exams. Logical in fact, given the many advantages. However, digital exams are also not without risk. "As an examiner, you want to be sure that you measure what you want to know", realises e-assessment expert Bert Wylin. "And you want everything to run smoothly and safely", adds R&D manager Yoeri Deschrijver. Together they explain how assessmentQ provides such guarantees.
Are digital exams safer than paper exams?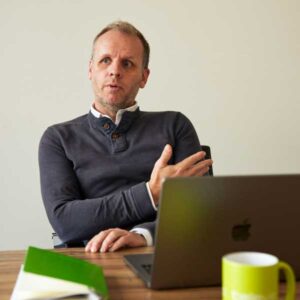 Bert: "At least just as safe, although they are hard to compare. With digital exams the security challenges are simply different to those faced in paper exams. The biggest difference lies in the additional benefits of digital exams: you can quickly and easily test a large number of participants. Also, all activity is traceable, so you can always check things if in doubt. And the reporting options are really diverse. Powerful software can achieve so much more than an examiner alone."
Yoeri: "The main danger with paper exams is the risk of human errors. We've all heard the stories about universities or other organsations grappling with the embarrassing truth of misplaced, lost or stolen paper exams, leading to tremendous stress and rework for examiners and students. With digital exams there is almost no chance of that, however, you are working in the unsafe internet environment. There are risks, which cannot be denied. It's up to us to keep those risks under control."
"Are digital exams safer than paper exams? They are hard to compare, the challenges are different. The biggest difference lies in the extra advantages of digital exams, such as the traceability."
e-assessment expert Bert Wylin
Which security risks do you get most questions about?
Bert: "Since the introduction of GDPR legislation, data security has been our customers' main concern. Of course, for us that is nothing new, however, nowadays many certificates and other guarantees are being added. Also, the fact that European standards differ from those in Australia, for example, adds complexity."
Yoeri: "Our user data is stored externally on secured Microsoft servers. Internally, only me and our 'security champion' – a colleague who constantly monitors the digital security of our product – have access to this data. Cyber experts also perform regular penetration tests on our system. This means we are armed against cyberattacks, which you are almost sure to encounter these days."
Another potential danger is verifying the identity of participants. How do you approach that?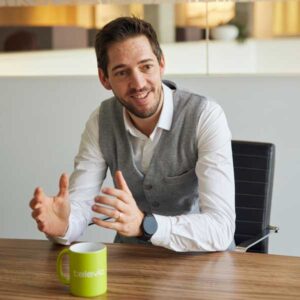 Yoeri: "You can link various authentication procedures to our system. Ideally, we work with two-factor authentication, for example, with the combination of an eID and itsme or with an authentication app on your smartphone. Besides eID we also have an official link with LeerID. That's the new itsme for school pupils, so to speak."
"There's another, even simpler solution: a one-off access code. In this case, participants are given an access token that is only valid for a limited period of time. Really user friendly. In fact: the more verification factors you apply, the safer it is. But, as an examiner, you don't want the procedure to be too cumbersome, because it's an extra stress factor for your participants. Two-factor authentication offers the best balance."
"Our user data is stored on secure external servers, and internally only me and our 'security champion' have access. Penetration tests are conducted to arm us against cyberattacks."
R&D manager Yoeri Deschrijver
Data security is one thing, but how can be sure that the person you want to test is the one who does your exam – and not someone else?
Bert: "In a test centre we assume that the supervisors do their work correctly. For remote testing, you can supplement the registration procedure with online proctoring. That is a collective term for software tools allowing you to monitor the course of exams remotely. With webcams, for example, you can see if the right person is sitting at the computer and check they are not getting external help. To do this, we work with partners such as Proctorexam, TestWe and Managexam.
Yoeri: "Artificial intelligence is becoming increasingly helpful in this area. Suppose you have a participant who works through an exam systematically faster than the others. Or that the typing speed of a participant is remarkably fast. With AI this can be detected during the exam. That is a sign for the supervisor to check for fraudulent behaviour."
Another method to prevent fraud is the Safe Exam Browser. How exactly does this work?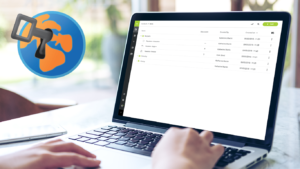 Yoeri: "This is a secure browser that you can oblige your participants to use. The exam will not start unless your participant is in this Safe Exam Browser (SEB). And as an examiner you can configure this SEB entirely as you wish. For example, you can block all internet sites, or set Excel as the only program that participants are allowed to open. Taking screenshots of exam questions can also be deactivated. This is a common form of fraud."
Bert: "Safe Exam Browser is not only highly efficient in combatting fraud, it is also really practical. It means that participants can simply use their own computer for the exam, as the integration with SEB is a standard part of assessmentQ. So, as the examiner, you have nothing to fear: without SEB your participants will not be able to open the exam."
Finally: which developments in e-assessment are you keeping a close eye on?
Yoeri: "In particular, innovations that can continue increasing the scalability and efficiency of assessmentQ. More and more establishments are turning to us for their exams, and those projects are also getting bigger. I'm thinking of the Flemish central assessments for all primary and secondary schools or the interpreting exams for the European institutions. The stakes are increasing, along with the importance of our digital security."
Bert: "My main concern is our data integrity. We were recently asked if it would be possible to adapt the scores in our system after an exam. This is not and will never be possible in assessmentQ. We want to guarantee that knowledge is assessed in a correct and unquestionable way. That is and remains our golden rule. And it will not surprise you that we are also keeping a close eye on AI developments."
Want to organise trustworthy online exams in complete safety?
Discover the opportunities of assessmentQ in the free test version.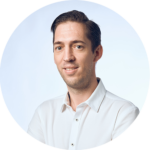 Yoeri Deschrijver
Yoeri is Software Development Manager. He has been leading the technological and research vision of Televic Education as R&D Manager since 2020. Before, Yoeri worked at Televic Education as Senior Software Engineer. With his experience in both start-ups and enterprise software companies, he aims at making assessmentQ the number one digital exam solution in the world.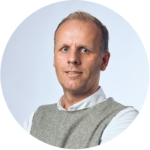 Bert Wylin
Bert is an EdTech pioneer. His academic background and entrepreneurship are at the basis of what has become assessmentQ today. Bert likes to feel the pulse of the market. He understands real customer needs and converts these into workable innovations. Bert is also a content expert, specialized in creating accurate, rich, and reliable content for e-assessments.

Discover assessmentQ
assessmentQ is an advanced web-based platform that enables organizations to create, manage, deliver and track all sorts of online assessments. The assessmentQ platform is versatile and powerful, and can be deployed in environments that need to be controlled, such as examinations, or it can be used to deliver preexisting assessment content to candidates in remote locations.